Albert D. D'Agostino, CFP®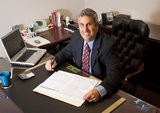 Financial Planning Through a Relationship of Trust "financial solutions that ADD up" We help enrich the quality of your life by creating a strategic roadmap based on your own core values and goals. You are entitled to more confidence that your money is being handled according to a plan based on what is important to you.
New rules enable families to begin the FAFSA earlier using tax returns from two years prior to the academic year.

Operate a business out of your residence? Consider an in-home business insurance policy as homeowners insurance coverage may not be sufficient.

Consider options that could be more beneficial than surrendering a life insurance policy or letting it lapse.

What can go wrong when investors chase performance and/or have a portfolio overly concentrated in one sector.
Compare the potential future value of tax-deferred investments to that of taxable investments.

Estimate how much would remain after paying income taxes and penalties if you took an early distribution from a retirement plan.

Estimate short-term and long-term federal capital gains taxes

Calculate the rate of return you would have to receive from a taxable investment to realize an equivalent tax-exempt yield.