Albert D. D'Agostino, CFP®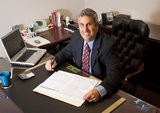 Financial Planning Through a Relationship of Trust "financial solutions that ADD up" We help enrich the quality of your life by creating a strategic roadmap based on your own core values and goals. You are entitled to more confidence that your money is being handled according to a plan based on what is important to you.
Seven classic quotes about investing from successful investors, economists, and other insightful thinkers.

Cash balance plans can be a powerful tool for employee recruitment and retention, plus they have generous contribution limits that increase with age.

A look at the tax advantages and credit risks associated with municipal bond investments.

An overview of the tax changes affecting corporations and pass-through businesses and the potential implications for GDP growth.