Albert D. D'Agostino, CFP®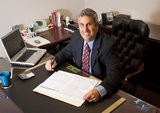 Financial Planning Through a Relationship of Trust "financial solutions that ADD up" We help enrich the quality of your life by creating a strategic roadmap based on your own core values and goals. You are entitled to more confidence that your money is being handled according to a plan based on what is important to you.
American society remains litigious — an umbrella insurance policy can provide additional coverage for personal liability.

Settling an estate can be a difficult and time-consuming job as there are some specific duties that often fall on an executor.

How key-person insurance policies can benefit small businesses.

A family limited partnership is a legal agreement that enables business owners and their heirs to address tax issues, business succession, and estate planning needs.
How much do you need to save each year to meet your long-term financial goals?

Estimate the annual required distribution from your traditional IRA or former employer's retirement plan after you turn age 70½.

How Long Will Your Funds Last?

This Cash Flow Analysis form will help you weigh your income vs. your expenses.