Albert D. D'Agostino, CFP®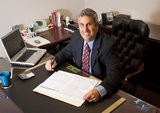 Financial Planning Through a Relationship of Trust "financial solutions that ADD up" We help enrich the quality of your life by creating a strategic roadmap based on your own core values and goals. You are entitled to more confidence that your money is being handled according to a plan based on what is important to you.
American society remains litigious — an umbrella insurance policy can provide additional coverage for personal liability.

Looks at some of the reasons behind the big declines in emerging markets, and how these developing economies might affect U.S. investors.

About 40 million family caregivers in the U.S. provide unpaid care to another adult. Understand the associated financial, physical, and emotional costs.

Solo 401(k)s and SEP IRAs are relatively simple for small-business owners and self-employed individuals to set up.
Calculate the rate of return you would have to receive from a taxable investment to realize an equivalent tax-exempt yield.

How Long Will It Take to Pay my Balance?

Use this calculator to estimate how much income and savings you may need in retirement.

Compare the potential future value of tax-deferred investments to that of taxable investments.