Albert D. D'Agostino, CFP®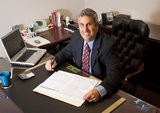 Financial Planning Through a Relationship of Trust "financial solutions that ADD up" We help enrich the quality of your life by creating a strategic roadmap based on your own core values and goals. You are entitled to more confidence that your money is being handled according to a plan based on what is important to you.
The debt ceiling may become a focal point during upcoming federal budget and tax reform negotiations. Here's why.

Before leaving for college, be sure your student has his/her insurance needs (medical, auto, personal property) addressed.

Here are some important first steps entrepreneurs should consider when starting a new venture.

How current trends in the retail industry could affect consumers, workers, and the broader economy.