Albert D. D'Agostino, CFP®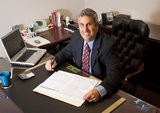 Financial Planning Through a Relationship of Trust "financial solutions that ADD up" We help enrich the quality of your life by creating a strategic roadmap based on your own core values and goals. You are entitled to more confidence that your money is being handled according to a plan based on what is important to you.
Small-business owners will want to take full advantage of every legal tax break available, such as deductions for a home office and automobile expenses.

Balancing stocks and bonds can be a central part of building an investment portfolio. Find out how balanced funds follow a similar strategy.

This article looks at credit quality in the corporate bond market and the potential impact on fixed-income portfolios.

Considering investing in preferred stocks? This overview examines the risks and potential benefits.