Albert D. D'Agostino, CFP®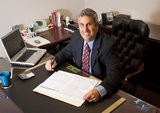 Financial Planning Through a Relationship of Trust "financial solutions that ADD up" We help enrich the quality of your life by creating a strategic roadmap based on your own core values and goals. You are entitled to more confidence that your money is being handled according to a plan based on what is important to you.
The new tax law includes several provisions that could benefit business owners, such as the pass-through deduction and write-offs for capital investments.

About 40 million family caregivers in the U.S. provide unpaid care to another adult. Understand the associated financial, physical, and emotional costs.

Test your knowledge of the financial benefits and responsibilities related to certain age milestones between 50 and 70½.

Consider options that could be more beneficial than surrendering a life insurance policy or letting it lapse.
Estimate the annual required distribution from your traditional IRA or former employer's retirement plan after you turn age 70½.

Estimate the future value of your current savings.

Is your personal inflation rate higher or lower than the CPI?

Estimate of the maximum amount of financing you can expect to get when you begin house hunting.