Albert D. D'Agostino, CFP®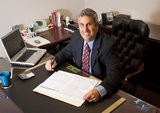 Financial Planning Through a Relationship of Trust "financial solutions that ADD up" We help enrich the quality of your life by creating a strategic roadmap based on your own core values and goals. You are entitled to more confidence that your money is being handled according to a plan based on what is important to you.
Making accurate quarterly payments on schedule can help taxpayers avoid interest penalties for underpayment to the IRS.

Test your knowledge of the financial benefits and responsibilities related to certain age milestones between 50 and 70½.

The benefits and risks of indexed annuities, including ways in which return rates are calculated.

A look at the tax advantages and credit risks associated with municipal bond investments.