Albert D. D'Agostino, CFP®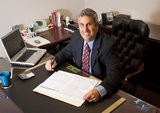 Financial Planning Through a Relationship of Trust "financial solutions that ADD up" We help enrich the quality of your life by creating a strategic roadmap based on your own core values and goals. You are entitled to more confidence that your money is being handled according to a plan based on what is important to you.
High-yield bond funds experienced a recent sell-off. What role do they play in the current investment climate?

Considering a higher-education loan for yourself or others? Here are some factors older adults should keep in mind.

The potential impact on Social Security benefits by the Windfall Elimination Provision and the Government Pension Offset.

The differences between ETFs and mutual funds, with an emphasis on the potential cost and risk factors of ETFs.