Albert D. D'Agostino, CFP®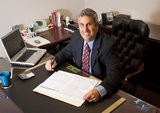 Financial Planning Through a Relationship of Trust "financial solutions that ADD up" We help enrich the quality of your life by creating a strategic roadmap based on your own core values and goals. You are entitled to more confidence that your money is being handled according to a plan based on what is important to you.
View Social Security's financial outlook, plus seven proposed fixes for a looming shortfall that may affect future benefits.

Explore ABLE account requirements and potential benefits, including new saving opportunities under the 2017 tax law.

Learn about four financing options that might help small businesses expand, pursue new opportunities, or cover operating expenses.

Find out whether a testamentary trust, living trust, or special-purpose trust can benefit your family.