Albert D. D'Agostino, CFP®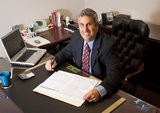 Financial Planning Through a Relationship of Trust "financial solutions that ADD up" We help enrich the quality of your life by creating a strategic roadmap based on your own core values and goals. You are entitled to more confidence that your money is being handled according to a plan based on what is important to you.
This Cash Flow Analysis form will help you weigh your income vs. your expenses.

How Long Will It Take to Pay my Balance?

Estimate the future value of your current savings.

Is your personal inflation rate higher or lower than the CPI?