Albert D. D'Agostino, CFP®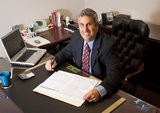 Financial Planning Through a Relationship of Trust "financial solutions that ADD up" We help enrich the quality of your life by creating a strategic roadmap based on your own core values and goals. You are entitled to more confidence that your money is being handled according to a plan based on what is important to you.
One way to help protect a bond portfolio from a potential spike in inflation is by investing in Treasury inflation-protected securities.

Investing based on principles of sustainable, responsible, and impact could have a positive social outcome.

Some facts to help understand the issues behind the trade deficit headlines, and how China factors into the story.

There are two separate five-year holding requirements that may affect the tax treatment of Roth IRA distributions.
This calculator can help you determine how soon you can pay off your mortgage.

Estimate of the maximum amount of financing you can expect to get when you begin house hunting.

How much Disability Income Insurance do you need?

How much will it cost to pay off a loan over its lifetime?