Albert D. D'Agostino, CFP®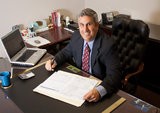 Financial Planning Through a Relationship of Trust "financial solutions that ADD up" We help enrich the quality of your life by creating a strategic roadmap based on your own core values and goals. You are entitled to more confidence that your money is being handled according to a plan based on what is important to you.
This article looks at the "new normal," its effect on consumer behavior and the retail industry, and what that could mean for the economy.

Passively managed index funds and actively managed funds can perform differently over different market cycles. Find out more about each.

If you are self-employed, do you know how to calculate quarterly estimated tax payments in order to avoid underpayment penalties?

Find out how understanding sequence-of-returns risk could help you develop a three-prong distribution strategy for retirement.
Will you be able to afford nursing home care?

This calculator can help you estimate your annual federal income tax liability.

How much can you afford to pay for a car?

How much do you need to save each year to meet your long-term financial goals?