Albert D. D'Agostino, CFP®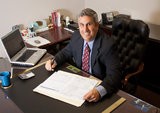 Financial Planning Through a Relationship of Trust "financial solutions that ADD up" We help enrich the quality of your life by creating a strategic roadmap based on your own core values and goals. You are entitled to more confidence that your money is being handled according to a plan based on what is important to you.
Do you know the differences between debit and credit cards? This article discusses both and when it might be better to use a credit card.

This article outlines four elements of financial well-being and offers suggestions to strengthen financial wellness.

If you've wondered what stock splits are and what effect they might have on your investment portfolio, this article covers the basics.

Did you know there still may be reasons to hold money market mutual funds despite low yields? Read this article to find out more.