Albert D. D'Agostino, CFP®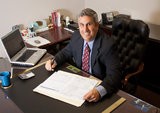 Financial Planning Through a Relationship of Trust "financial solutions that ADD up" We help enrich the quality of your life by creating a strategic roadmap based on your own core values and goals. You are entitled to more confidence that your money is being handled according to a plan based on what is important to you.
Discover how to give a substantial gift to a favorite charity while receiving a flow of income during your lifetime.

This article provides an overview of four times other than retirement when Social Security might affect you or your family.

A look at the financial, emotional, and physical costs of family caregiving with some helpful suggestions for caregivers.

Wills and trusts can each help in the distribution of assets at death. This article points out important differences between the two.