Albert D. D'Agostino, CFP®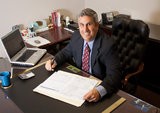 Financial Planning Through a Relationship of Trust "financial solutions that ADD up" We help enrich the quality of your life by creating a strategic roadmap based on your own core values and goals. You are entitled to more confidence that your money is being handled according to a plan based on what is important to you.
This article looks at the strategy behind the Fed's monetary policy shift and the potential consequences for consumers, investors, and the economy.

How do you see your retirement? This article provides some guidelines to help you develop a well-defined retirement vision.

Do you have a will? If not, this article offers three key reasons why you should.

High earner, not rich yet (HENRY) refers to young professionals with big incomes and little savings. Find out how HENRYs might grow wealth.
How much can you afford to pay for a car?

Calculate the rate of return you would have to receive from a taxable investment to realize an equivalent tax-exempt yield.

A balance sheet summarizes your assets and liabilities and reveals your net worth.

This Cash Flow Analysis form will help you weigh your income vs. your expenses.