Albert D. D'Agostino, CFP®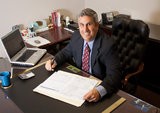 Financial Planning Through a Relationship of Trust "financial solutions that ADD up" We help enrich the quality of your life by creating a strategic roadmap based on your own core values and goals. You are entitled to more confidence that your money is being handled according to a plan based on what is important to you.
This calculator can help you determine how soon you can pay off your mortgage.

Knowing your likely life expectancy is an important factor in making long-term financial plans.

Compare the potential future value of tax-deferred investments to that of taxable investments.

How much will it cost to pay off a loan over its lifetime?